Create a new zenflow account

From the zenflow account menu at the top right (slightly to the left of your username)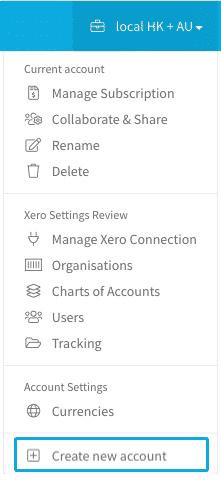 Connect to the Xero accounts you need. All the Xero accounts you authorised zenflow to access will show on your zenflow<>Xero connection page.
Exclude the organisation(s) you don't want to show on the reports of this account: Click the 'exclude from reports' link of the Xero account you don't want to include in the reports of this zenflow account.
To activate the feature, you will need to subscribe the Partial Group add-on (US$30 per Partial Group; Xero connections present in multiple zenflow accounts will only be counted once per subscription).
Contact Support ([email protected]) and you will be ready in no time.
---
eg. 2 groups of companies:
zenflow account 1: Full group of companies
zen Australian Ops
zen HK
zen SG
zenflow account 2: SG + HK
We recognised the same 2 Xero companies (zen HK and zen SG).
In total, there are 3 Xero companies and 1 Partial Group.